Counting the Stars at Unhyeongung
An evening tea time in Unhyeongung counting the stars in the city center with family, friends, and lovers.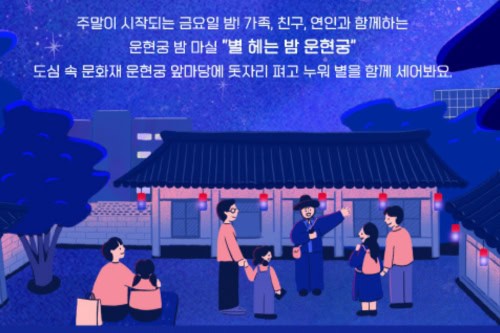 Event Summary:
General Information:
Nestled in the heart of South Korea's bustling cityscape, the Unhyeongung festival promises a serene and magical evening under the stars. Set to take place on Friday, August 25, from 6:30 PM to 9 PM, this unique event invites festival-goers to gather at the historic Unhyeongung for an enchanting tea-time experience. Attendees will have the extraordinary opportunity to count the stars while surrounded by the vibrant urban landscape. As a testament to the ever-changing nature of the night sky, the event is subject to alteration based on weather conditions.
Key Highlights of the Event:
An intimate evening tea time within the historic grounds of Unhyeongung.
Delight in the company of family, friends, and loved ones while gazing at the stars in the heart of the city.
A chance to escape the urban hustle and bustle and immerse oneself in the tranquil beauty of the night sky.
A blend of history and modernity as festival-goers enjoy the starry spectacle against the backdrop of Unhyeongung's historical architecture.
Additional Information:
The admission fee for the event is KRW 10,000. Due to the limited capacity of the venue and the desire to create an intimate atmosphere, reservations are required to secure your spot.
For those looking to reserve their place at this celestial gathering, contact the event organizers at +82-2-766-9090.
To stay updated with the latest event details and potential changes, visit the official festival website at https://www.unhyeongung.or.kr/.
Immerse yourself in an evening of celestial wonder and urban tranquility at Unhyeongung's "Counting the Stars" festival. As the stars twinkle above and the city's lights provide a unique backdrop, this event promises to be an unforgettable experience for all who attend. Don't miss out on the chance to embrace the magic of the night sky in the heart of South Korea's vibrant metropolis!
Unhyeongung
+82-2-766-9090
Plus! You don't want to miss these articles:
Find the Best Things To Do in Seoul
[ Data & Image Source: Korea Tourism Organization (KTO) ]
IVK's Top Picks – Day Tours, Tickets, and Travel Activities
Seasonal Picks!😍