Andong Maskdance Festival 2023
October 2
–
October 9
KST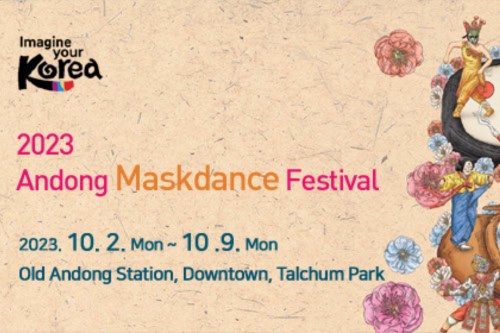 The 2023 Andong Maskdance Festival, held from October 2nd to 9th, invites you to immerse yourself in Korea's rich cultural heritage. Hosted in Andong, a city renowned for preserving the largest number of cultural properties in Korea, the festival features the iconic Mask Dance, traditional games, and soulful folk songs. It's a spectacular balance of cultural understanding and jubilant celebration, mirroring the yin and yang of the Korean flag. Experience the vibrant aesthetics, traditions, and joyous festivities of Andong during this unique festival.
Festival Summary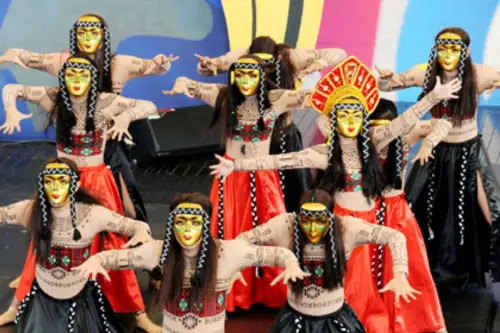 Date: October 2nd, 2023 (Monday) to October 9th, 2023 (Monday)
Locations: Old Andong Station, Downtown, Talchum Park
Admission Fee: To be confirmed (Please check the official website)
Host: Andong City
Organization: Korea Foundation for Cultures and Ethics
Sponsor: Ministry of Culture, Sports and Tourism; Cultural Heritage Administration Gyeongsangbuk-do
Homepage: maskdance.com
General Information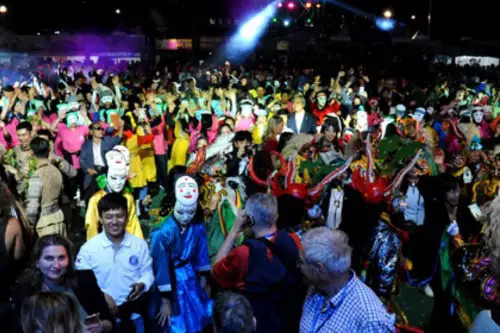 Immerse yourself in the rich history and vibrant culture of South Korea at the 2023 Andong Mask Dance Festival. Held in Andong, a city known for preserving the largest number of cultural properties in the country, this annual festival showcases the city's unique blend of tangible and intangible cultural heritages.
From ancient villages to traditional games like Cha-Jeon-Nori (a demonstration of a battle game involving hundreds of men) and Not-Dari-Balgi (a female play), to the melodic strains of Hajeon Ssaeum and Jeojeon Nonmegi (farmers' songs), Naebang Gasa (women's calligraphy), and Hangsangsori (a funeral dirge), Andong comes alive with the echoes of the past. The city's rich cultural heritage is a testament to the value-oriented philosophy of its people, who have adapted to societal changes while preserving their traditions.
The Mask Dance Festival is rooted in these socio-cultural, historical, and religious heritages, offering a dynamic platform to experience the Andong way of life. The festival, much like the yin and yang in the Korean flag, perfectly balances the solemnity of cultural understanding with the joy of celebration.
Key Highlights of the Andong Maskdance Festival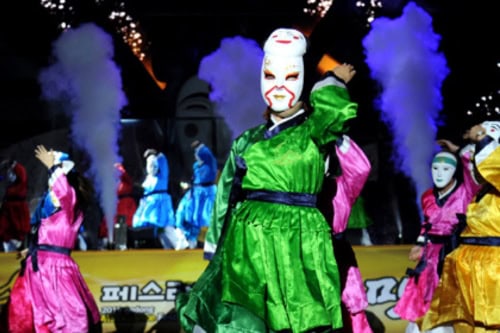 Experience the excitement of the Mask Dance, a vibrant showcase of Andong's unique cultural heritage.
Explore the historic city of Andong, home to the largest number of cultural properties in Korea.
Participate in traditional games and activities, providing a hands-on experience of Andong's rich cultural traditions.
Enjoy a range of performances, from the energetic Cha-Jeon-Nori to the soulful strains of Hangsangsori.
Additional Information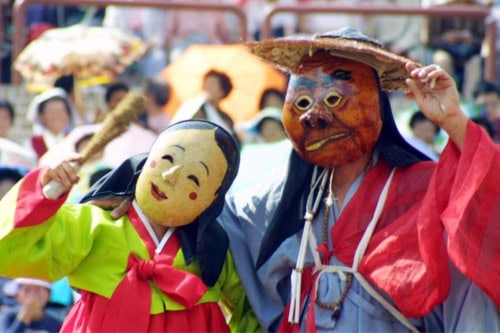 The festival's schedule, including specific events and performances, will be confirmed closer to the date. Please check the official website for updates.
As Andong is a popular destination during the festival, it is recommended to book accommodations in advance.
Be sure to explore other attractions in and around Andong, such as the Hahoe Folk Village and Bongjeongsa Temple.
Korea Foundation for Cultures and Ethics
You may also love:
Best Places to Visit in Andong & What to Eat : Korea Travel Sponsored by K Story Tour & Trazy
Best Things To Do in Suwon
[ Data & Image Source: Korea Tourism Organization (KTO) ]
IVK's Top Picks – Day Tours, Tickets, and Travel Activities
Seasonal Picks!😍